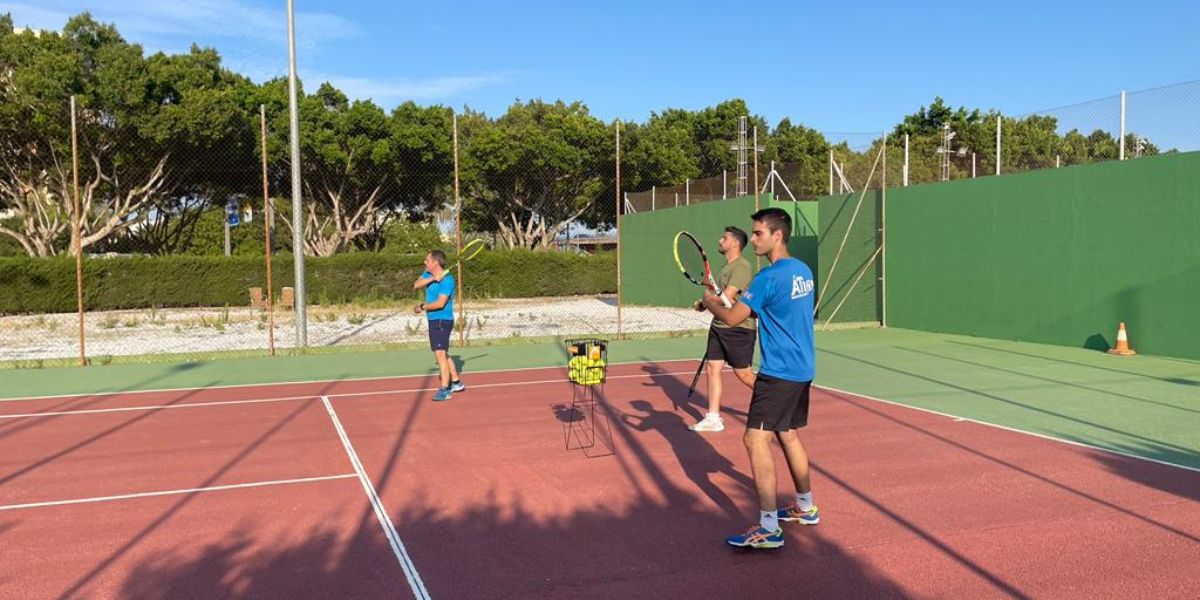 7 September, 2023 / 06:57
We are very happy to announce that the new tennis course 2023/2024 has started. On 4 September, girls, boys and adults picked up their racquets again to give their all this season, and above all, to continue learning while having fun!
Programme for children and young people
With the programme for children and juniors, there can be 1, 2, 3 or more classes per week (a minimum of 2 classes per week is recommended) and the students are grouped by age and level of play.
The programmes are grouped according to the age of the pupils:
Pretenis: From 4 to 6 years old (we have at least 2 levels of play).
Minitenis: From 7 to 9 years old (we have 4 levels of play)
Children: From 10 to 13 years old (we have 4 levels of play)
Juniors: From 14 to 17 years old (4 levels of play available)
Fun, learning and active training!
Adult Programme
For students aged 18 and over, there are 2 options to choose from:
Elite Plan: commitment and guarantee
Our Elite Plan is designed for those who want to commit themselves fully to the discipline of tennis. Within our school environment, we offer two lessons per week at fixed times, guaranteeing your place in each session. You will have the possibility to choose between morning or afternoon hours, to adapt your routine according to your needs.
This plan is perfect for tennis lovers who want to fully immerse themselves in the sport, enjoying a constant schedule and solid training.
Flexible Plan: adapting to your pace of life
If you have flexibility in your work life, our Flexible Plan is perfect for you. This lesson model is designed for those who work shifts and need versatile scheduling options for their tennis lessons. We offer 10 lesson vouchers (to try our services you can purchase a one lesson voucher).
Within this plan you will find a variety of times available throughout the week, giving you the opportunity to choose when you wish to participate in lessons. In addition, we offer 6 different levels of play to ensure you find the group that best suits your skill level and tennis aspirations.
Benefits of joining tennis lessons
Regular tennis practice is not only exciting and fun, but also has many benefits for our physical and mental health. Some of the reasons to join our tennis course include:
#1 Improve physical condition
Tennis is a very complete sport that helps improve endurance, muscle strength, agility and coordination. Playing tennis on a regular basis is a great way to stay fit and healthy, as well as prevent childhood obesity.
#2 Developing mental skills
Tennis is a mentally challenging sport that requires concentration, quick decision making and problem solving. These skills are transferable to other areas of life, so if developed from a young age it is very enriching from a cognitive point of view.
#3 Socialisation
Tennis lessons are a great place to meet new people and make friends! You will meet like-minded people with similar interests to your own. Plus, the kids are grouped by age, so it will be easy for them to find things in common to start a friendship.
#4 Stress reduction
Tennis is perfect for releasing accumulated stress and tension. The combination of physical exercise and fun improves mood and reduces anxiety.
We have places available!
Your tennis place is waiting for you at Centro Cortijo Alto. Contact us now and enjoy tennis like never before, we are waiting for you!